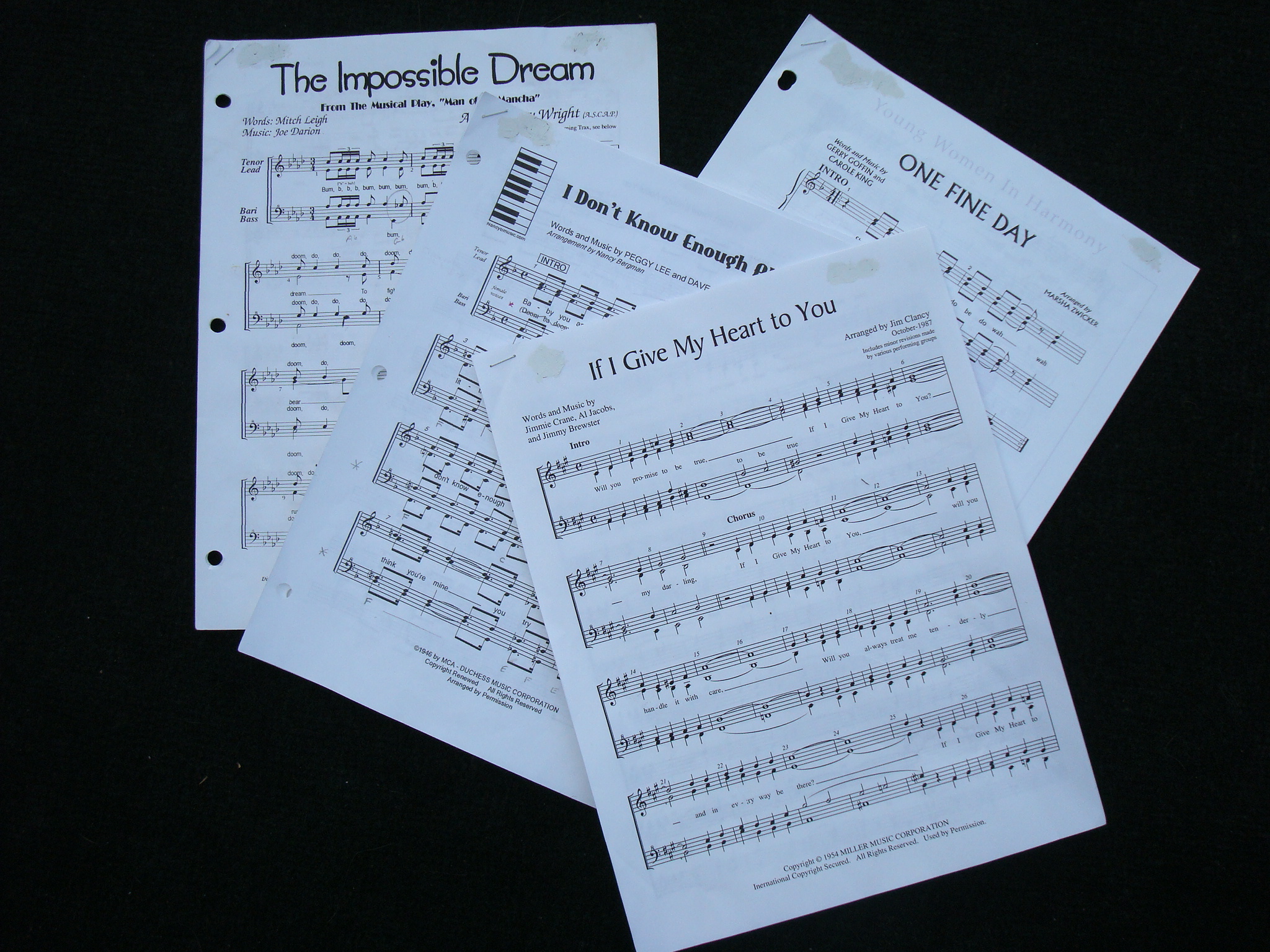 The Toronto Accolades has a varied repertoire including ballads, show tunes, folk and popular music from the present and the past. We are always learning new songs, and the repertoire list is reviewed and updated annually.
Members are expected to learn the songs by memory, so that they can perform them without using the sheet music. Members do not have to know how to read music, however, as digital recordings are also made available for each song for learning purposes.


You can view some of our Toronto Accolades videos on YouTube and on our Facebook page.

GENERAL REPERTOIRE

Anything Can Happen O Canada
At Last One Fine Day
Can You Feel The Love Rhythm Of The Rain
Can't Buy Me Love Singin' In The Rain
Colours Of The Wind Something Inside So Strong
Feelin' Groovy Star Spangled Banner
Hallelujah This Is Me
I Hope You Dance True Colours
In The Still Of The Night We Rise Again
It's A Good Day With A Little Help From My Friends
Little Things Mean A Lot Wonderful Day Like Today
Music Speaks Louder Than Words You Raise Me Up

HOLIDAY SONGS

Christmas Medley Little Toy Trains
Deck The Halls Marshmallow World
Diddly Squat Oh Hanukkah
Do You Hear What I Hear? Secret Of Christmas
It's The Most Wonderful Time Silent Night
Jingle Bells We Wish You A Merry Christmas
Let There Be Peace Winter Wonderland
Little Drummer Boy

HARMONY INC. SONGS

Area 5 Song Song Of Friendship
As Long As I'm Singing We Are Thankful
Change The World We're Harmony, We're Strong
Rockin' Robin What A Dream Can Do