Oh Canada, Eh! -- November 12, 2017
There was over a year of preparation put into this show, celebrating Canada's 150th anniversary. The theatre had to be booked, new songs learned, script and program written, costumes decided upon, props gathered and volunteers enlisted. Then, just one week after returning from International Contest, it was show time!
We arrived at York Woods Library Theatre at 10 a.m., loaded down with props, costumes, raffle baskets and food. While we
were setting up the lobby for the ticket table, our raffle baskets and the baked goodies that would be served at the reception after the show, Wendy's husband and two sons were busy setting up the stage and working on the sound and lights. After warm-ups, we went on stage for some rehearsal time and sound checks, then left it to Wendy's quartet, Skyfall, and our guest quartet, Yonge Guns, for their rehearsals, while we had lunch and got changed.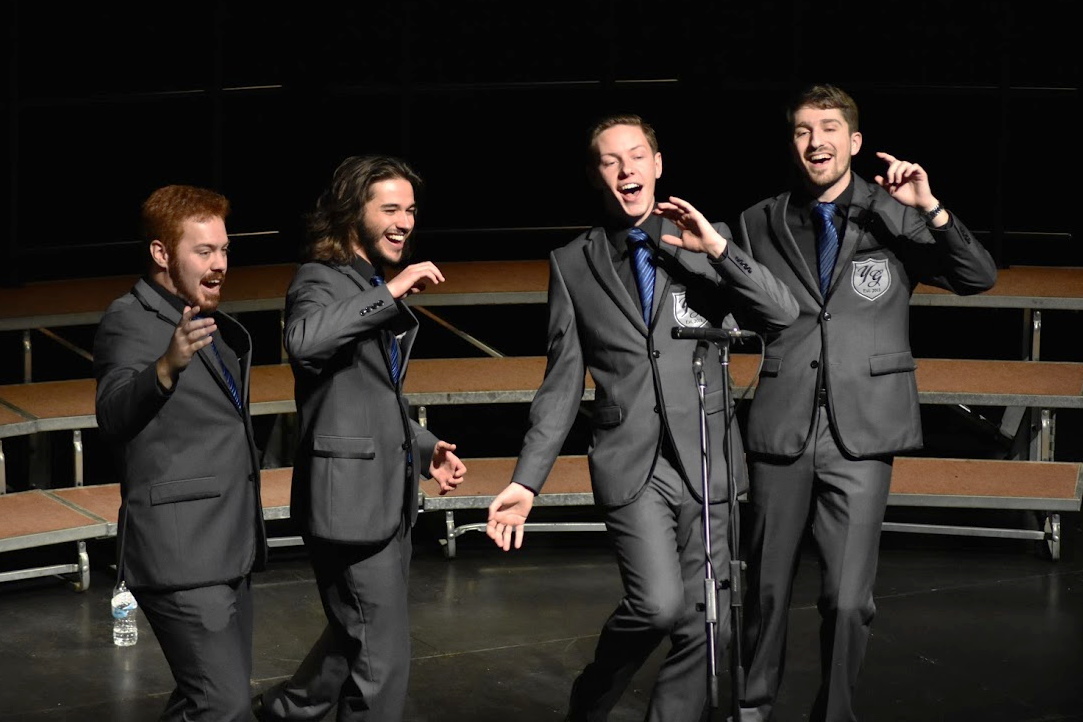 In the first half of the show, we wore our most elegant black, with sparkly silver accessories, and sang songs of love, as Nikki recounted to the audience how she was searching for and then found love. Then Bev introduced Skyfall, followed by Yonge Guns, two fabulous quartets, to fill out Act One.
The second half of the show began with a return of Skyfall, and then Yonge Guns. Yonge Guns ended their set with the song "Canadian Girl", as the Accolades took the stage. The chorus then countered with "Canadian Man", to start off the Canadian portion of the show. Dressed in red and white – an open red shirt, revealing a white t-shirt underneath emblazoned with a red sequin maple leaf – the Accolades sang a series of songs about Canada and written by Canadians. In the middle of this second act, there was a singing break in which Judy led the Crazy Canuck Challenge – a quiz show with two volunteer contestants pulled from the audience who, with the help of the rest of the audience, answered quiz questions about Canada. We concluded the show with the Canadian version of "This Land Is Your Land", which we encouraged the audience to join in on, followed by a reception back in the lobby.
A big thank you is due to all of the Accolades who worked so hard to put the show together, and especially to friends and family who volunteered their services, and all those who came out to the show. We had a lot of fun and felt it was a success. As always, though, we hope to make the next one even better!