Colour Me Strong - October 26, 2019
After months of preparation, we arrived at St. Elizabeth of Hungary Church (Bayview and Sheppard) at 10 a.m.to put the final touches on our songs, our staging and the venue set-up, in preparation for our afternoon show.

A few recruited family members were already hard at work doing the heavy lifting (setting up the risers which they had hauled from our rehearsal location) and applying their technical skills (setting up equipment and adjusting the sound system). Other volunteers would arrive closer to show time to help us out in the parking lot and at the ticket table.
After warm-ups, we went on stage for some rehearsal time and sound checks, then left it to Wendy's quartet, Skyfall, and our special guests, the Ault Sisters, while we had lunch and got changed.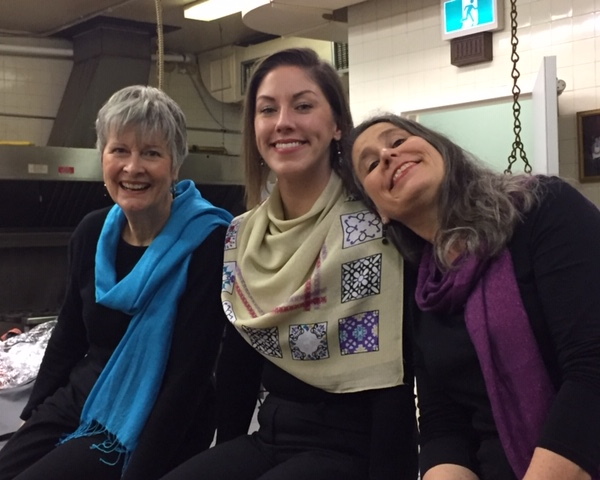 In the first half of the show, we wore bright
t-shirts in a variety of colours to reflect our show title "Colour Me Strong". The theme of the show was living life to the fullest, being strong in the face of adversity, and not being afraid to show your true colours and be your authentic self. This was reflected in a few of our favourite new songs: True Colours, Something Inside So Strong, and This Is Me. After the chorus's time on stage, Bev Jackson, who had generously agreed to be our emcee, introduced the Ault Sisters, a wonderfully entertaining jazz trio, accompanied by piano, to fill out Act One.
The second half of the show began with our director's talented quartet, Skyfall, and then a return of the Ault Sisters. The chorus then returned to the stage for a 'love song' set with two of our members, Jo Anne and Megan, debating the merits of marrying for love rather than money, as well as living in cold Canada rather than the warm States, to the amusement of the audience. For Act Two, the chorus wore black, brightened by an array of different coloured scarves, to continue the theme of "Colour Me Strong". We concluded the show with a reprise of part of the song "This Is Me", then joined the audience for a reception, where we had the opportunity to greet and socialize with our guests..
A big thank you is due to all of the Accolades who worked so hard to put the show together, and especially to friends and family who volunteered their services, and all those who came out to the show. We had a lot of fun and felt it was a success. As always, though, we hope to make the next one even better!